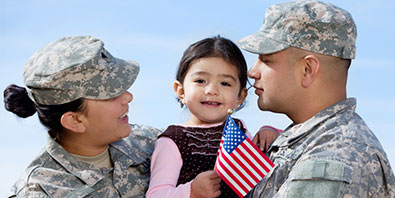 Opportunities for Veterans
Assurant Values Our Military - We Want You!
Members and veterans of the U.S. military are capable and skilled with the service characteristics we value at Assurant. The work ethic, leadership abilities, diverse experiences and problem-solving skills honed through military service encourage us to actively recruit military job seekers.
If you are transitioning from service, a veteran, part of the National Guard reserves or a military spouse you should consider Assurant. We invite you to explore the job opportunities Assurant provides.
Positions you may want to consider
Meet Our Employees

Branch of Military:Navy
Rank:E3/Airman
MOS:AD-Jet Mech
Hugo, Customer Service Manager
Miami, FL
Advice for Success: "I have always focused on doing my job to the best of my abilities. We all have high hopes and dreams however, I've always taken it one step at a time. I have concentrated on excelling at each role/position I have attained and accomplished the most I possibly could from them. I have always treated everyone with respect regardless of my position. I have tried to help as many people as I could and have done so without expecting anything in return. Whether the individuals were in my department or not. Because of my actions and accomplishments, I've been very successful. I also try to instill the same ethics to my direct reports."
View similar career opportunities
View jobs in this location

Branch of Military:United States Army
Rank:E-7 / SFC
MOS:54B40
Daniel, Claims Examiner
Dallas, TX
Advice for Success: "My transition from military to civilian life turned out to be a road of many forks. I believed that when I first got out I needed to find my dream job that would last me the rest of my life. The truth is that as time went on I tried many different things and even went back to school before settling in to work here."
View similar career opportunities

Branch of Military:USAF
Rank:SMSgt (E8)
MOS:
Years of Service:22 years
Michael, Director, 'CCO and TeleSales'
Rapid City, SD
Advice for Success: "The word "military" may get you an interview, but you still have to sell yourself and be a good job fit. I had this notion that having the words "retired military" on my resume would have employers beating down my door, filling up my mailbox and offering me shoe deals (haha). My thought was (and still is) that the military experience prepares for life better than anything else (i.e. college, normal life, etc). In the military we are set before constant challenges that can't always be taught in a classroom. We have accountability of people's lives and millions of dollars' worth of assets at a fairly young age. We not only are willing to die for our country but are willing to save others and put ourselves in harm's way so others are out of harm's way. Being in a deployed setting or fighting from home station is foreign to the corporate world and I don't know that they can fully grasp the maturity, wisdom and courage it takes to make some of the decisions that have to be made...sometimes at a moment's notice."
View similar career opportunities
View jobs in this location

Branch of Military:United States Army
Rank:Master Sergeant (MSG)
MOS:75H
Paula, Administrative Assistant
Duluth, GA
Advice for Success: "When I initially transitioned after serving 20+ years in the Army, I was very discouraged. I thought for sure that 20 years of Administrative experience in the Army would be sufficient to land a very reputable job and start a new career. Unfortunately, my greatest struggle was revising my resume from military jargon to a language that was used in Corporate America. Once I was able to revise my resume, I received quite a few calls for interviews, which created my second challenge…the interview process. After 20 years, I never had the opportunity to interview for a position. The more interviews I went through, the more comfortable I became. My advice for anyone transitioning out of the military would be to take advantage of any Career Alumni programs their branch of service offer. Once they've transitioned out, don't be discouraged and by all means…do not give up. The perfect job opportunity is out there for everyone. I have no regrets with the choice I made to stay with Assurant. I enjoy my job and have found the perfect career for me."
View similar career opportunities
View jobs in this location

Branch of Military:Army National Guard
Rank:E-7 / SFC
MOS:54B40
Jacob, Process Improvement Manager
Dayton, OH
Advice for Success: "My best piece of advice is to follow the values that are acquired from being in the military. There are a lot of skills that each of you have obtained by being in the military. Utilize the leadership training and real life experiences that you have been through. I have adapted a lot of my training into the business world. There definitely will be a transition period and look to a good mentor in the business to help work through the intricacies. Especially if you can find someone that shares a similar background. All of the things in the business world are similar, SOP's and SOG's are utilized in every aspect of the business world, just called something different. When I had direct hires, one of the most important qualities I looked for is "Drive". All of you know what this and what it means to everything you do. I would recommend obtaining some type of experience or training in management of civilians if you are searching for a management position. Last, I would say to utilize the attention to detail that each of you has developed and you will be successful in this business."
View similar career opportunities
View jobs in this location