LaShonda Oglesbee Named One of Most Influential Black Executives in Corporate America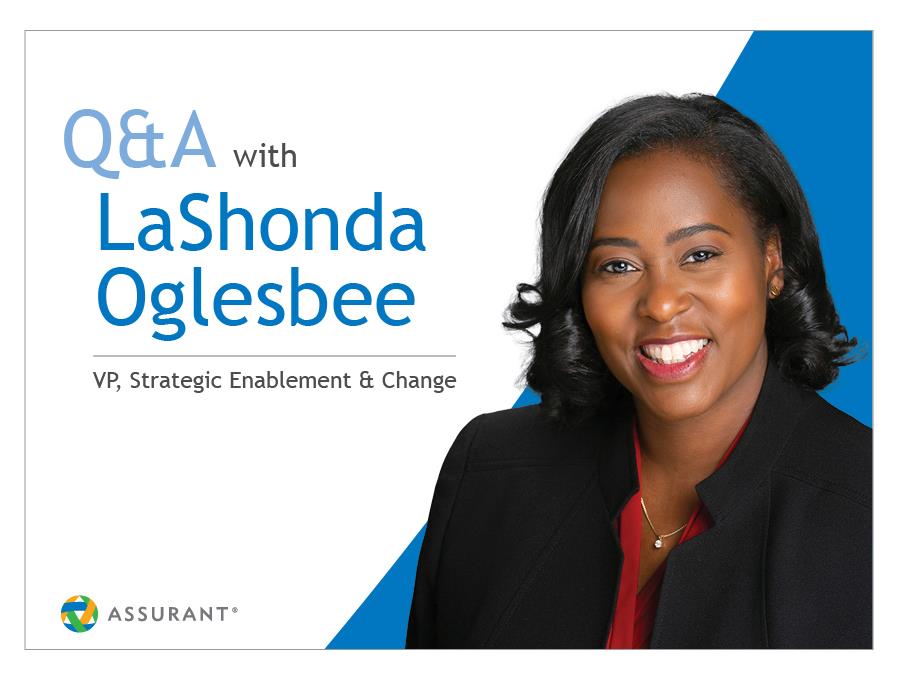 LaShonda Oglesbee, Vice President, Global Head of Strategic Enablement & Change at Assurant, was recently named one of Savoy Magazine's 2022 Most Influential Black Executives in Corporate America. Savoy is a leading African American business and lifestyle magazine and this recognition showcases individuals who've been recognized for their executive and business leadership in national and global-leading corporations.
With about two decades worth of strategic consulting experience, LaShonda supports significant transformation initiatives and employee engagement efforts across the globe at Assurant. She also leads in the development and implementation of strategies to drive employee engagement, leveraging insights from the voices of close to 16,000 employees and an extensive network of global Engagement Champion Teams (ECTs) to elevate the employee experience.
LaShonda was selected from of over 500 prospective candidates across corporate sector influence, scholastic achievement, career growth, community outreach and recognition. In light of her distinction from Savoy, LaShonda shared insights about her own career path and shares advice for others:
Congratulations on being recognized as one of 2022's Most Influential Black Executives in Corporate America. What was your first reaction when you found out about this recognition?
I felt extremely honored just to be considered when I received the request to meet with the selection committee. When I found out that I was actually selected, I was thrilled to be listed and recognized for the work I have done in the community and at Assurant. Also, I felt thankful for all the support and encouragement I received from my family and colleagues over the years who have challenged and stretched me to take risks, dream big and help others as I pursue my goals.
As Assurant's VP and Global Head of Strategic Enablement and Change, you keep employees and employee experience top of mind. How do you think your career with Assurant (or in general) positioned you for this recognition?
I joined the consulting industry directly after graduating from Spelman College. Early on in my consulting career, I was introduced to change management, which is centered around helping people prepare for and adapt to changes. By specializing in change management, I gained a greater appreciation for listening to employees and developing plans to help people understand and prepare for transformational changes. This foundation prepared me for the role I have today, which is focused on developing and implementing strategies to drive employee engagement, leveraging insights from the voices of 16,000 employees globally to enhance the employee experience, partnering with people across Assurant to ensure changes are executed successfully and overseeing HR due diligence for mergers and acquisitions.
Tell us about a specific experience or person who inspired you to where you are today.
That is a difficult question to answer because I would say multiple experiences and people have influenced and inspired me. When I think about where I am today, it's truly an outcome of:
Growing up as an only child, watching my parents' strong work ethic
Having the support of my husband, son, aunts, uncles, cousins and friends in all of my extracurricular pursuits and their unconditional love
Church members who helped me grow spiritually and nurtured my desire to get involved in the community
Classmates and professors who challenged my thinking
Colleagues who provided opportunities because they saw things in me that I didn't necessarily see in myself at the time.
I am where I am today because of a combination of all my experiences and all the many people that invested in me personally and professionally.
If you could go back in time, what advice – career or personal – would you give to yourself just starting out in your career?
I would tell myself:
"Take more calculated risks" - You will be surprised of the outcome when you believe in yourself and get uncomfortable. This is where you will have your greatest successes, learnings and failures.
"The love of family and friends is one of life's greatest blessings" – Life is short, so spend time making every moment and every second count with your family and friends; create those unforgettable experiences today because tomorrow is not promised.
"Don't sweat the small stuff" – Everyone makes mistakes - the key is to learn from them, not agonize over them.
"To whom much is given much is required" – Always find time to help and support others you meet in life.

This year, Assurant's Diversity, Equity and Inclusion (DEI) initiatives include a prioritization in Strategic Partnerships across underrepresented communities. Many of these partnerships aim to support Black men and women in the workplace. What advice might you give to Corporate America to support Black employees looking to make a difference in business leadership?

"Connect With-and Listen to-Employees" - Provide opportunities for senior leaders to have transparent conversations with black employees on their concerns and engage them in developing and implementing solutions.
"Develop and Manage Your Leadership Pipeline" – Focus intensely on identifying the next leaders within the organization. As your leadership pipeline is identified, review the list to ensure it reflects the diverse composition of your employees and customers. Then review the list again from a diversity and inclusion perspective. Once the list has been developed, actively manage it to ensure people on the list are provided with exposure to senior leaders and the appropriate professional development opportunities.
"Identify & Measure the Effectiveness of Strategic Partners" – As you look for organizations to partner with to support your Black employees, clearly define the objectives and metrics for each partner. Ensure that the partnership will truly support the needs of your current and future Black employees.

What advice would you give to junior or midlevel Black employees who aspire to progress their careers in Corporate America now?

"Build Your Personal Board of Directors" – Identify a group of people that will serve as your sounding board to advise you and provide you with their open and honest opinion. Your personal Board of Directors should consist of people from various ethnicities and diverse backgrounds.
"Identify Both Mentors & Sponsors" – A mentor is someone that can provide you with career advice and will serve as a role model for you. A sponsor is someone within the workplace who will advocate for you. Sponsors leverage their influence within the company for your career advancement and they make introductions to help you broaden your network.
"Strive to Become a Servant Leader" – The most effective leaders, in my opinion, try to serve others. They value people, engage in active listening, empower others so those around them can realize their own potential, are altruistic and care about others.
In addition to her work with Assurant, LaShonda serves as a Board member with the Nicholas House, an Atlanta shelter that provides housing to homeless families. She's also a former president of the Buckhead Atlanta Chapter of Jack and Jill of America. In addition, LaShonda is an alumna of the Atlanta Women's Foundation: Inspire Atlanta Program and was selected as Mentor of the Year by Pathbuilders, a professional mentoring and leadership development company dedicated to supporting women in their careers.
Click here to read more about LaShonda and her recognition.
Related Articles