Five Quick Tips of Career Advice I'd Give My 25-Year-Old Self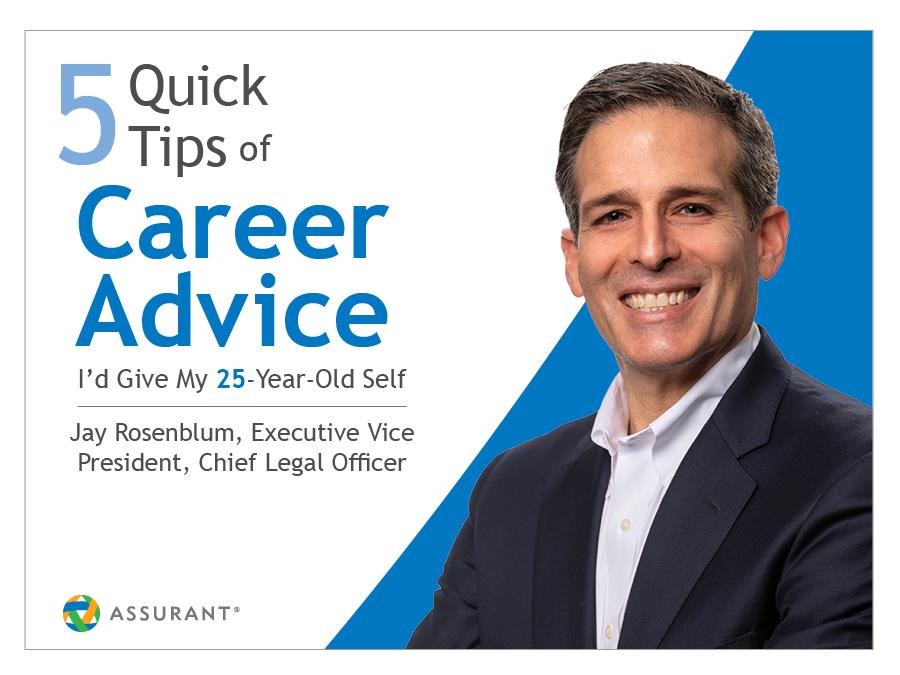 I recently had the honor of participating in the Innovative Legal Leadership podcast. During my discussion, I was asked what advice I would give my 25-year old self. Fortunately, I didn't have to think hard about it because I happen to have two sons who are in their twenties and starting their career journeys. Because I'd give them the exact same advice, I'm eager to also share with you:
There is no "best job" that will determine the rest of your career.
Don't worry about getting that perfect first job. You'll learn from every job you have, especially those that don't work out. 
The career "ladder" is not a natural progression, with each step a straight line to the top. 
Take risks, try new things and learn from each step along the way.
It is okay if you don't know what you want to do for the rest of your life. 
Don't look at managers and corporate leaders and assume they always knew where their careers would lead. They were also in their twenties once, and just like you, they likely had no magic ball to know where their careers would lead. 
Help everyone you can, especially your peers.
Being a team player will pay more dividends than succeeding at the expense of others. (And trust me, it will be noticed.)
Be in the moment.
Excel in every job and push yourself to gain new experiences, different perspectives and new skills. Don't always be thinking about what comes next. 
In my role leading our legal function at Assurant, I think of these pieces of advice every day as I help our team members grow their careers through new experiences. The commitment to helping our employees with their learning and development is part of what makes Assurant such a great place to work. 
Hear More from Jay
Check out the Innovative Legal Leadership podcast to hear about Jay's belief in trying new things and taking risks, including:
Lessons from his time at the White House
Structuring the legal department to best serve business priorities
A purposeful approach to talent retention
Assurant's DEI initiatives
🔊Listen on Apple 
🔊Listen on Spotify
About Jay
Jay Rosenblum is executive vice president, chief legal officer of Assurant, Inc. and a member of the company's Management Committee. He leads Assurant's global legal department, which includes oversight for compliance, government relations, regulatory affairs and other legal matters affecting the company. In that role, he serves as a key advisor to the Assurant Board of Directors and oversees corporate governance matters.

Mr. Rosenblum joined Assurant in 2019 as senior vice president, Government Relations & Regulatory Affairs where he was responsible for developing and advancing Assurant's global government relations and regulatory affairs strategy, establishing engagement priorities, building partnerships with external stakeholders and advocating for the company's policy and regulatory positions. Prior to his appointment as chief legal officer, Mr. Rosenblum served as interim chief legal officer from February to July 2020.
Related Articles