Assurant Helps Gift a Mobility-Modified Truck for Veteran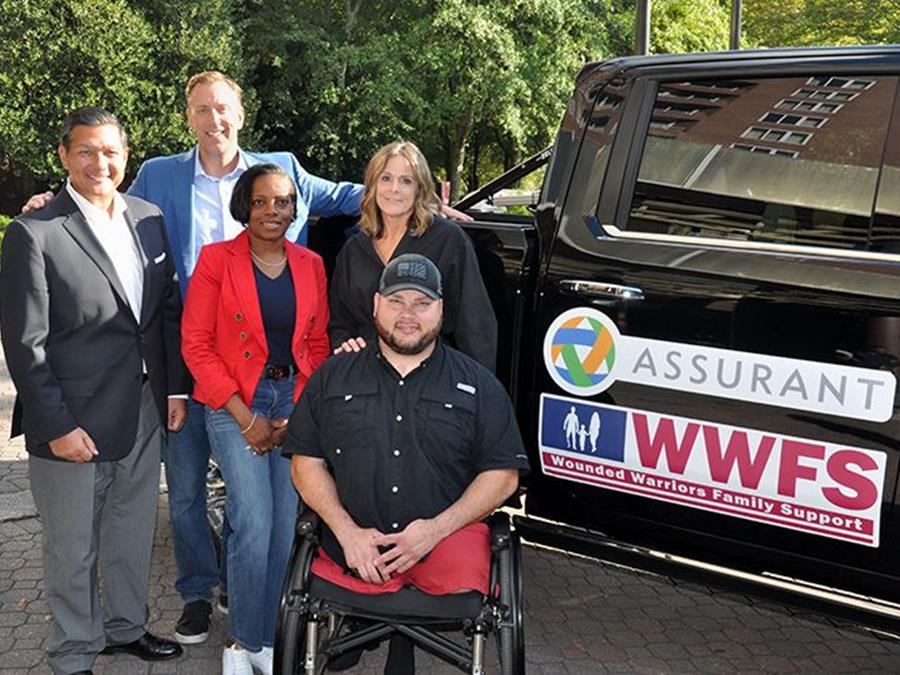 It was an honor to travel to Atlanta last week to witness the outcome of the Wounded Warriors Family Support (WWFS) and Assurant partnership. Together, we proudly presented Retired U.S. Marine Corps Corporal Sean Adams of Gainesville, Ga. with a specially modified 2022 Chevrolet Silverado 2500 truck as part of the WWFS Mobility is Freedom program.
As a veteran, this ongoing partnership is incredibly impactful. Assurant has partnered with WWFS since 2018, and this is the second mobility-modified vehicle presented to a veteran since the collaboration began.
I am proud to be part of a company that recognizes the challenges veterans face and through my work as Executive Sponsor of the Veterans@Assurant Employee Resource Group, I am honored to be able to support veterans like Sean as part of my work at Assurant. It reminds me of the importance of supporting the communities where we live and work.
Sean's story is one that will stay with me for a while. He enlisted in the Marines after graduating from high school because of the impact the September 11th attacks had on him. On the morning of February 10, 2012, Sean was in Helmand Province, Afghanistan on a reconnaissance patrol when he was severely injured by an improvised explosive device. The blast took both of Sean's legs above the knee and injured both hands and his right arm. He also lost partial vision in his left eye. Sean considers the Navy Hospital Corpsmen and Marines who helped him in the field that day true heroes.
The new truck will help Sean work on his 67-acre hay farm. Mobility modifications include the installation of a special wheelchair lift, a digital accelerator ring, and a custom brake handle.
Please join me, along with Assurant colleagues, in wishing Sean support and success in his future.
LaShonda O.
"Proud to work for a company that makes a difference in the community. Assurant partnered with Wounded Warriors Family Support (WWFS) to present combat-wounded veteran, Sean Adams with a mobility-modified 2022 Chevrolet Silverado 2500 truck."
Stephanie H.
"Honored and proud to have been a part of this dedication. Sean had some very important words and messages that he didn't want us to forget… we need to continue to support our wounded veterans and the families of those who gave the ultimate sacrifice. Mental health needs to be a priority for wounded veterans, and support services like Wounded Warriors Family Support should continue to be a focus for us all to honor those who so bravely and selflessly served and sacrificed for our freedom.
It was a pleasure getting to know you, Sean!"
Jill H.
"Honored to be present during the ceremony handing over the keys. Ret. Col. Sean - it was a pleasure to meet you, hear your words, and experience your humor."
Mark A.
"Amazing commitment to assist our veterans and show appreciation for their sacrifices and efforts. Thank you to ERG leadership and all those involved in making it happen."
Related Articles