Embracing Change: My Journey Around the World of Assurant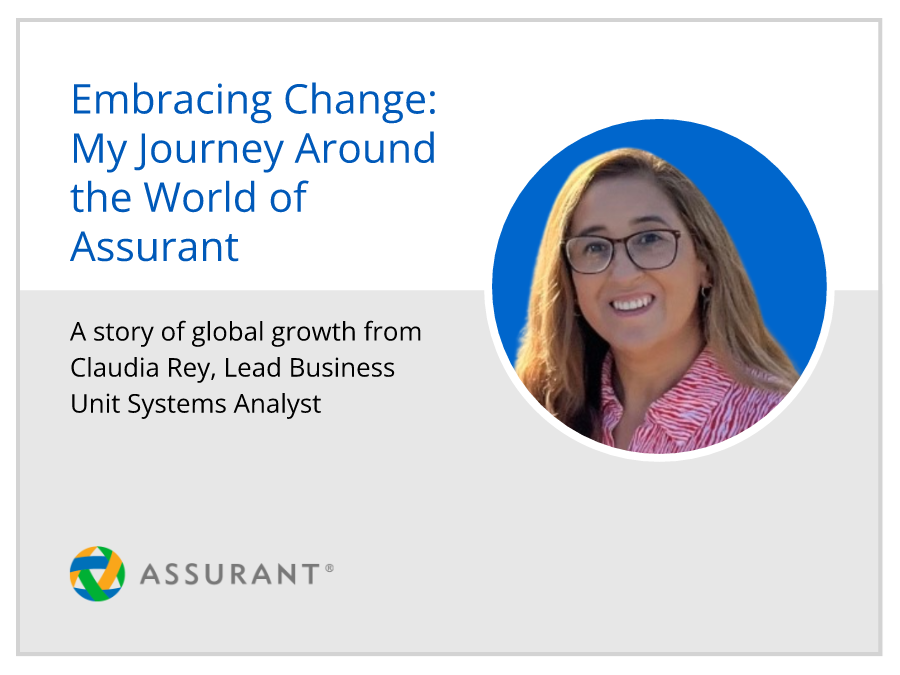 Assurant is a global, Fortune 500 company with a presence in 21 countries. My name is Claudia Rey, and I've been fortunate to work with several of these countries during my fifteen years at the company.
International work includes a number of unique challenges, like language barriers, cultural differences, and getting used to different working styles and processes. But the opportunity to dive into these challenges has made my career at Assurant distinctly rewarding.
I was born in Colombia, and while I love my country, I always wanted to explore other opportunities. Three years into my marriage, I got that opportunity when husband agreed to take a job offer in the United States. This decision brought immense change to my professional life. Although I held the position of Senior IT Developer in my home country, it took me four years to resume work in the U.S. Once I overcame the required hurdles, I went back to work as a Software Quality Assurance Analyst at a company in Miami, Florida.
One day, a former colleague phoned me and said, "Claudia, come for an interview with my boss at Assurant and bring your CV." The following day, I walked through the doors of Assurant's Miami campus, and I haven't looked back. From day one, I adored the Miami campus, my coworkers, the atmosphere, and the novelty of the area. Here, I was able to use my deep IT experience to propose new methodologies and processes to help Assurant's international credit source system reach its potential.
After a few months working in Miami, the Business Analyst who had been supporting Assurant in Mexico decided to move to another department. Due to my experience as an Analyst and my fluency in Spanish, I was asked to help out for a few days until they could find a replacement. Even though I had no actual experience as a Business Analyst, I accepted without hesitation. I was able to be successful because of my commitment to jump in where needed and the faith that my leaders had in me.
I found that I enjoyed the interaction with users and the technical aspects of the role, so I accepted this position on a permanent basis. I remember a meeting with my boss in which she mentioned that none of the Business Analysts wanted to work on an accounting module. She said, "Nobody likes numbers!" I laughed and said "I love numbers! I can help!" I took on all the accounting and data projects in that department for the next few years.
Assurant has a history of promoting from within and providing opportunities for those that seek them out, and I have experienced this firsthand In the years that followed, I was promoted to Business Analyst Lead and then to a manager role. I learned a lot about the business during that time and met a lot of people from many of the countries where Assurant operates.
And I soon learned that one of the constants at Assurant is change. As a thriving company, we are always seeking to improve and grow. After about a year in my manager role, the company made a decision to streamline our accounting systems in order to provide our customers with an improved experience. The company offered me the opportunity to join an international team in supporting financial applications. This time I had to think about it. I wasn't sure if I wanted to leave my group and start again in another area. I even considered leaving Assurant and looking for other options.
But in the end, I decided to stay at Assurant. I realized this company believed in me and saw potential in me that I didn't always see in myself. That's a rare thing. I was given the opportunity to support Chile, and from there I started to learn more about that country, its systems, financial constructs, and processes. It wasn't always easy, but I ended up being part of a great team, continuing to grow my understanding of Latin American cultures and the nuances of accounting systems across markets.
After six years, our Business Analyst in the UK left the company, and this fact caught my attention. I still wanted to grow in Assurant, and I asked my boss what he would think if I took that position and moved to London. His answer was, "This is music to my ears!" This time, the change was huge! Another country. A different region. More new experiences. By this time, my children were grown. They loved the idea for me, but they didn't want to move. However, my husband's company also gave him the opportunity to work on a project in Europe, so from the career side, we saw it as a good chance, even though it was a large adjustment for our family. A few months later, I started a new period of my life at Assurant's UK office.
We moved to the UK in 2019 with the intention of staying for two years. Then the pandemic hit! It's now been four years since I arrived in London. I've gotten used to new accents, new foods, and new customs in London and now feel at home here. I've met new colleagues from across Europe and am expanding my understanding of our operations. As one of the technical leads, I helped to achieve a significant milestone by integrating the financial reporting activities of a new acquisition into the international finance system, helping to further the company's goal to continuously improve the services we provide to our industry-leading clients across the globe.  
So what's the next step in my Assurant journey? I'm now making plans to go full circle and return to the U.S. I'm looking forward to reuniting with my children and the Miami colleagues.!
I'm grateful to Assurant for presenting me with so many opportunities and challenges, all of which I have successfully tackled both professionally and personally. Upon reflection of each career milestones, I hope these insights can inspire others to seize opportunities to grow, even if it seems intimidating. One of Assurant's values is to "embrace change." And this is something that the company and employees live and breathe every day.
If you are looking for career growth and are up for the challenges an international Fortune 500 company presents, there's no better company to work for than Assurant. On top of the growth and development I've already experienced here, I'm also currently enrolled in Assurant's mentorship program, Pathbuilders, where I'm learning about new ways to further manage my own career path in support of the company. So who knows where I might go next?
Ready to join Assurant? View our open roles here.
Related Articles